Dawn of Discovery Is a Big Friendly Game
City builders are intimidating. You know going in that you're going to be responsible for thousands (if not millions) of lives, and every single one of them is going to have needs. You're going to have to manage this demand, fix that broken road, do this, do that, and if you don't do it just right, you're met with thousands of complaints at once. People set fires, buildings burn down, and now you've taken four steps forward only to take five steps back.
Well not in Dawn of Discovery. This game is the gentle giant of city builders; it wants to be your friend. And to that end, it spares you from a lot of the grief you'll find in other city building games. This is not to say Dawn of Discovery is easy. You will definitely feel like Atlas in the later goings as you try to balance the world on your back, juggling your peoples' newfound need for coats with the increasingly aggressive overtures of your enemies.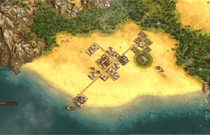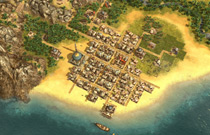 But more often than not you'll feel like you are kicking butt and taking over the world while surfing the wave of history. There are many ingredients to this successful and fun recipe, and we'll cover some of them in future blogs. You can also pick up the Official Dawn of Discovery Strategy Guide, written by yours truly, to really delve into the game.
But for now, let it suffice to say that Dawn of Discovery is good about introducing one new element at a time, until the next thing you know, you're juggling the needs of an entire civilization, rescuing lost children, and generally saving the day with your city management skills…even if you never knew you had any.

Joe Dodson is the author of Prima's Official Dawn of Discovery Strategy Guide. Get your digital copy today -- it's packed with all the vital information you need to succeed!