It's a Big Game with a Big Name
Dawn of Discovery has a big name, and it sounds like a big game, but trust us, there's more to discover here than meets the eye. Sometimes with games like this, you get a large single player campaign and then some additional throwaway skirmish content.
But in Dawn of Discovery, the campaign is just the tip of the iceberg. Don't get us wrong, the campaign is long and deep. You will build vast settlements, explore exotic lands, fight wicked enemies, and follow the course of an intriguing plot through it all. But when you finish there, you've still only seen a fraction of what Dawn of Discovery has to offer.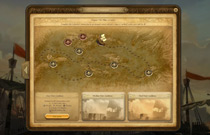 For starters, there are six scenarios that will put your mind to work for hours and hours at a time. And these scenarios aren't just made of generic slider settings and enemy AI modifiers; these things are like humongous levels. They come with NPCs, quests, objectives, and challenges. They have character and characters, and you'll quickly find yourself caught up in the dynamics of each as you attempt to meet some very large objectives in the face of equally large obstacles.
And just like the campaign sets the table for the scenarios, they in turn set up the continuous games. These are no mere sandboxes where you can build cities and then topple them with natural disasters. No, these are massively customizable maps that you can transform into any adventure you want. Maybe it will be hard and maybe it'll be easy, but it will definitely be big.
For instance, we recently played through an "Easy" continuous game in order to work our way through some build trees, and we had our work cut out for us trying to balance the demands of our massive population while constructing an imperial cathedral. And that was without anyone shooting at us. This is a ton of game. And we aren't even finished! (We're just saving more for future blog posts – or get the guide to get the complete picture.)
Joe Dodson is the author of Prima's Official Dawn of Discovery Strategy Guide. Get your digital copy today -- it's packed with all the vital information you need to succeed!