Pirates, Yarr!
Joe Dodson, author of Prima's official strategy guide for Dawn of Discovery here. One of my favorite characters in the game is Hassan ben Sahid. Why? Because he's a pirate! Or as the game calls them, Corsairs. While most players and factions in Dawn of Discovery at least make attempts at getting along and playing nice, the Corsairs are rude and brutal from the get go, and will only befriend you if you either completely bow down to them, or seriously kick their butts. There is no middle ground with these guys.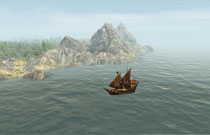 If you're playing a continuous game or a scenario, you don't want to forget about them. If they don't get their "protection" money, or just decide they don't like you, then they'll descend on your helpless trading ships like a pack of wolves. This, by the way, is not my favorite thing about the Corsairs.
No, the best thing about the Corsairs is watching them get after other players who have either shunned them or forgotten to pay their dues. The Corsairs aren't just rude and swarthy to you; they hate everyone. And watching a silly little minstrel like Leif Jorgensen try to scramble around as Corsairs wreck his routes is one of the most entertaining sights in the game. Another great thing about Corsairs is that they'll sell you explosives, but we don't want to go into too much detail there. Those are objects better left to discovery—or you could pick up Prima's official Dawn of Discovery strategy guide and find out for yourself!